Pipedrive Field Mapping
With Bread & Butter, you can put key information right into your Pipedrive users automatically when they visit your site. Map all of Bread & Butter's analytics data to existing or custom fields that you can create in Pipedrive.
Depending on the Bread & Butter action or event the user does, some or all of the following can be sent to Pipedrive:
Event Name
Event Type
Event Date
Event Code
User Created Date
User State
User Email address
User First Name
User Last Name
User Profile Image URL
User Company
User Provider
User Referrer
User UTM Source
User UTM Medium
User UTM Campaign
User UTM Term
User UTM Content
User UTM GCLID
User UTM GCLSRC
User UTM DCLID
User UTM FBCLID
User UTM MKCID
IP Address
Continent
Continent Code
Country
Country Code
State or Province
State or Province Code
City
Longitude
Latitude
ISP
Operating System
Device
Browser
Is Bot?
Authentication Provider
Authentication Provider Name
Authentication Started Provider
Page View Title
Page View Raw URL
Page View Base URL
Page View UTM Source
Page View UTM Medium
Page View UTM Campaign
Page View UTM Term
Page View UTM Content
Page View UTM GCLID
Page View UTM GCLSRC
Page View UTM DCLID
Page View UTM FBCLID
Page View UTM MKCID
You can map these values to existing Pipedrive fields, or create your own custom fields.
When you create a Pipedrive Rule, Bread & Butter fetches all of your Pipedrive user fields, and displays them: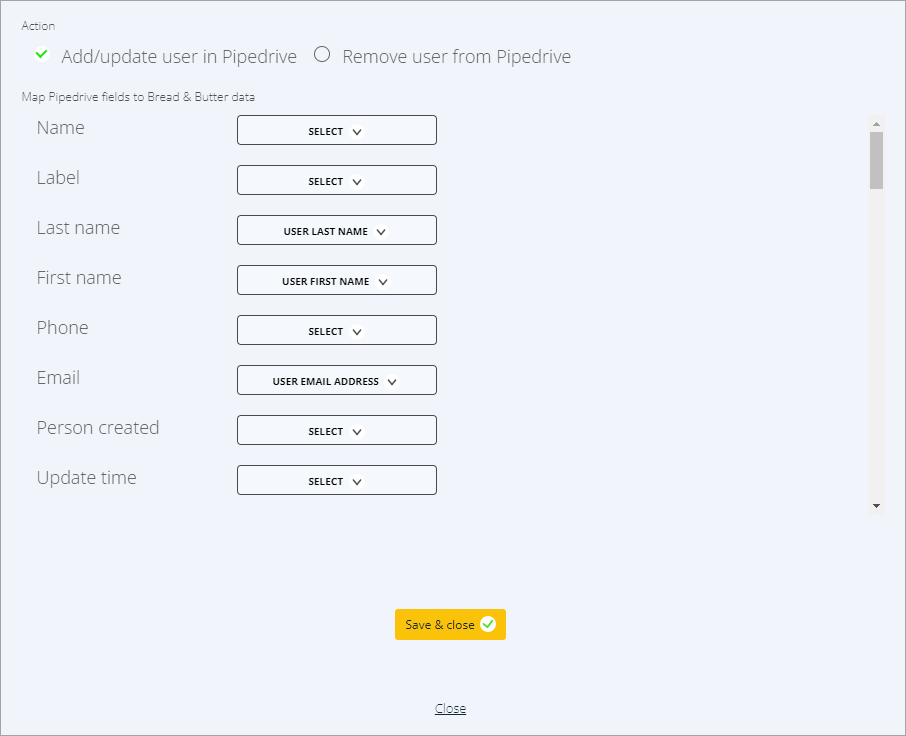 You can then choose which, if any, you want to map to Bread & Butter content. Once a user completes the action (ie: Create an account, or Authenticate), the user data is pushed to Pipedrive: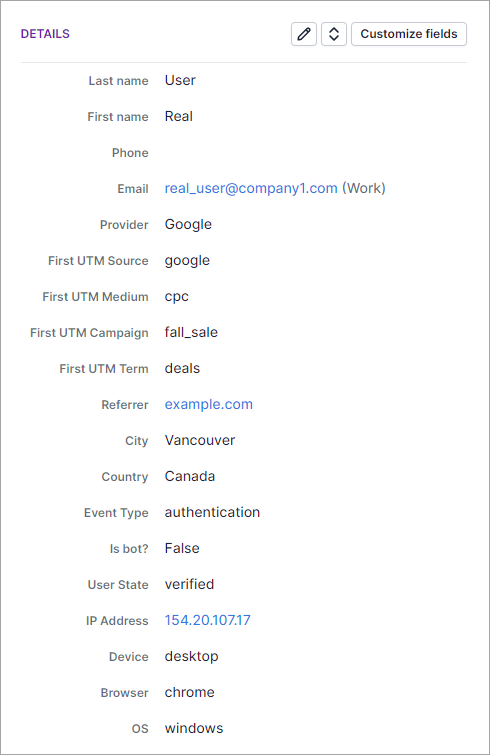 With this Bread & Butter information, your sales team will have even more tools to close deals and generate more business.