ABC - Always Be Converting
How it works - a Google visitor conversion example
Use Bread & Butter's no code script tag or API on your website or app. Configure the Identity Providers and you're done.
Add to your forms, sign up workflow or any custom event you would like analytics for.
No database transfers or system integration time needed.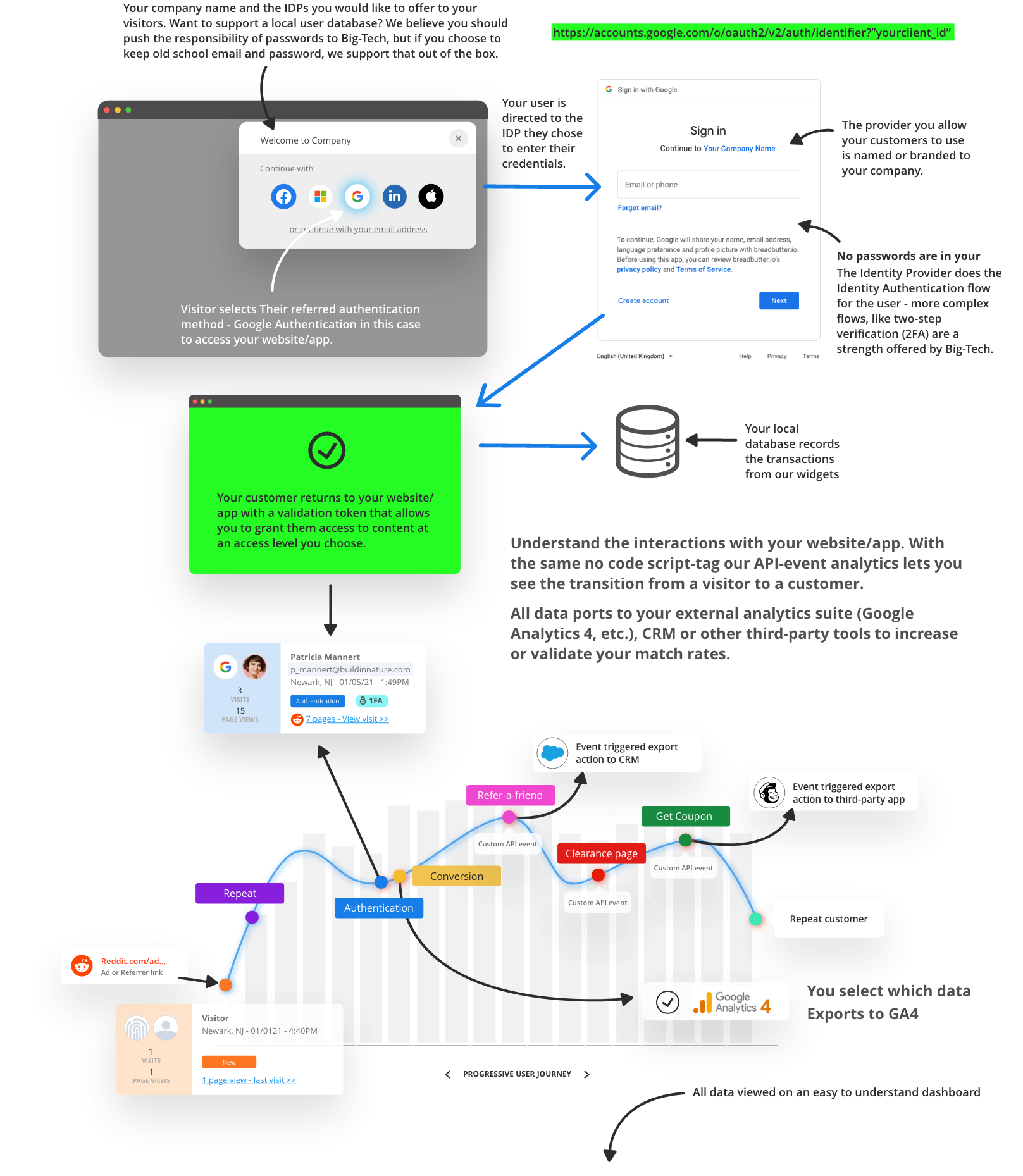 WYSIWYG - All Butter
We believe – You shouldn't need an analytics team to figure out your analytics
Just pick the Identity Providers you or your users trust

It doesn't matter whether you want Social or Enterprise SSO authentication. Identity provider choice can be personal or need to fit your business model/company policy. Bread & Butter handles all the protocols and callbacks, all with the same script tag.
Need more than Facebook or Google?
Support the most complex enterprise workflows with the same code. Our API takes care of all major Identity Providers and security with SAML, OAuth, and OpenID.
Let corporate customers sign in to your website or app with their preferred SSO deployment such as Okta and ADFS.
For additional security, deploy 2FA on top of an existing Identity Provider such as Google or Okta.

Bread & Butter handles the callbacks regardless of protocol.
LEARN MORE ABOUT AUTHENTICATION-AS-A-SERVICE
Installs in minutes, not days.
Stop guessing, start knowing.
A typical customer can implement within a single day.
No need to migrate your user database, and existing users do not have to re-register.
If you want to migrate your users, we've got you covered there, too.
Our API library is available in all popular languages.
One implementation supports all your customers' unique configurations.
Works alongside all your other favorite script tags like Google Analytics.
Just add this to your front end
Already using Google Analytics? Just add the Bread & Butter 'script tag' below your Google site tag.
learn more >>
Use the API or
let us do all
the work
Our javascript library (JSL) gives you the flexibility to implement Bread & Butter's login options the way you want.
LEARN MORE ABOUT OUR JS LIBRARY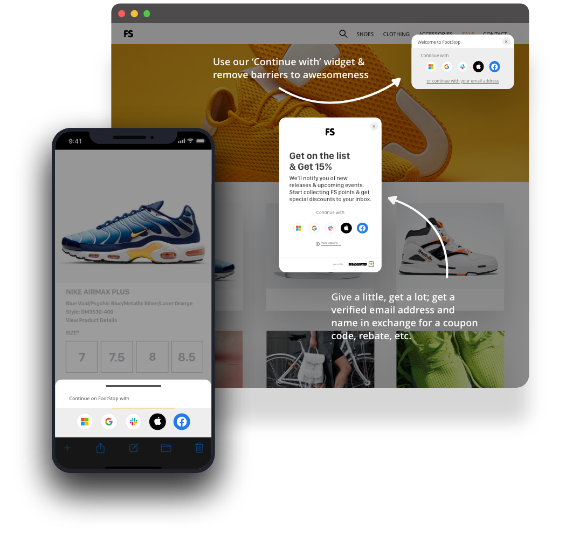 Who should use Bread & Butter?
We think that everyone should. First-party data future proofs your website from third-party company policies or digital protection laws changes. And who doesn't want to reduce friction for their visitors? Or maybe you're tired of sifting through the junk in your analytics or buying mailing lists with spam addresses that don't exist? Want to be able to see where your users spend their time? Ever had a request for de-identification? If you own or manage a website and have thought about any of these things, then Bread & Butter is for you.
What's required to use Bread & Butter?
Start gathering first-party data by installing our initialization script. Then customize one-click conversions based on your business needs. If you have a development team you can consume our APIs or use our JS Library. If your website is on Webflow, WordPress or another CMS we have installation guides & plugins that will have you up and running with a couple of clicks.
Do I need to have coding skills to use Bread & Butter?
If you can cut & paste, you can get Bread & Butter on your website. Adding the functionality to your website is as easy as adding the initialization script to your site like you would Google Analytics. You configure all features in your Bread & Butter account dashboard, and we have step-by-step guides to make sure you're set up correctly. Use a CMS like Webflow, WordPress, or Wix? Use one of our plugins or install guides.
Have a development team? Invite them to your account as an admin or auditor to add your initialization script and one-click conversion widgets.
How much does Bread & Butter cost?
All Bread & Butter integrations begin with a 30 day fully functional free trial. After that point the amount of Bread & Butter you need determines your cost structure. Have a small website and just want to reduce friction for your users? We have a plan for that. Are you an Agency that needs to manage multiple platforms and report out data? We have a plan for that as well. View our full pricing by clicking the button below.
Works with your technology stack